Please always check with the office for the most up to date information regarding clubs.
Check that the club you are interested in is running and that space is available.
13th November - Arts and Crafts
We made 'aquarium tea light holders ' from jam jars.
3rd November - Arts and Crafts
We have been making pom pom creatures!
4th October - Art/Craft & Sewing
In art/craft club we are drawing designs for an abstract landscape and in sewing club we sewed buttons on to our samplers.
September 2017 - Gardening Club
During the past few months, ingredients have been grown in school by the gardening club. These have kindly been made into chutney by Mrs Monks and it is now for sale at £2.50 a jar - please see Mrs Long in 3SG/HT if you would like some. Proceeds will go back into the gardening club for their next project.
September 2017 - Sewing Club
We are practicing our stitches by sewing a sampler.
September 2017 - Arts and Crafts Club
We made these miniature gardens after going into the woodland to collect some resources.
We have made mobiles from leaves. We used wax crayons to draw a design on the leaves and then painted over them. When they were dry we added glitter.
August/September 2017 - Lunchtime Sewing Club News
The glorious multi-coloured community picnic blanket pictured below was completed at the Cattle Market over the summer holiday. Well done to all involved for producing such a wonderful piece.
The children also made a blanket using Parc Eglos fabric and colours. Mrs Tostdevine made the bags, and they were filled with donated items and given to the Penzance Women's Refuge.
After School Clubs from September 2017
Kid's Club Theatre are pleased to announce that as of September 2017 they will be taking over dance and drama classes at Parc Eglos. Wednesdays will be for KS1 and Thursdays will be for KS2. Both classes will focus on singing, dancing and acting. The group will be working towards a full pantomime which is currently being written especially for our children. Classes build technique, confidence, team work and stage skills. Classes are fun based and child led, and they will work towards pieces that can be performed. We are also pleased to announce that we will be starting an 11+ class for children who currently attend classes and want to continue, more details to follow. For more information Email steveanguish@hotmail.co.uk.
June 2017
Here are our latest projects!!!
Pottery: trees that will soon be painted, and some 'tiny toys'.
Printing: we used potatos to cut a design then printed on material. Mrs Tostedevine then made Barbie dresses and cushions for the children from their prints.
Pottery club have finished their wonderful '4 season tiles', pictured below.
We are making a set of tiles of the seasons. Here are the latest pictures.
This week we looked at still life and made collages of our own :)
Some of Art Club's fantastic Abstract Portraits are pictured below...
January 2017
Art Club
We have started painting abstract portraits.
Art Club's latest creations...
We have a new group at Art Club! We have been recycling rolls of card from inside wrapping paper, cutting them and making pictures with the cut out pieces. We also used twine and newspaper.
December 2016
Art Club
Here we were making prints from polystyrene and wrapping paper for our 'gifts'. We also started making Santas from a kitchen roll tube.
November 2016
Art Club
The Art Club is for years 4,5 and 6. It takes place on Mondays from 3.15-4.30 in the year 6 wet area and runs for 5 sessions.
We have been exploring and experimenting with graffiti.
October 2016
Art Club
We enjoyed making paint from natural resources and painting with it!
We looked at different forms of Abstract Art and created a piece that is now on display in the school hall.
September 2016
After School Clubs
Our Year 1 and Year 2 Supa Soccer is now full but we still have spaces available in our Year 3 and Year 4 football after school on a Thursday. Please contact the office if you would like to put your child's name down. We also have spaces still available in art club and street dance.
Fabric Paper Scissors
Mrs Pellow will be beginning a sewing club after school on a Wednesday for children in Years 5 and 6. The club will begin with basic sewing techniques exploring embroidery, applique and patchwork and these will be incorporated into mini projects each half term. The club will begin on Wednesday 14th September 2016 between 3.30pm—4.30pm. The cost of each session will be £5.00 and will include all basic materials. Places are limited and filling up fast so please see Mrs Pellow or the school office for booking information.
Bike Club
Boomerang Club are now running a bike club on Tuesdays after school. This is open to year 3 and 4 children. They have also started a 'Kids club street dance' group running after school on Thursdays and this is open to years 4, 5 and 6. Please contact the school office for further details.
March 2016
Let's get cooking with Year 2
We have been busy this week cooking Thai green curry in our cookery club. We all enjoyed cooking and then tasting the curry, we even had a little bit left to take home!! If you would like to make this at home or fancy trying something else, you can find this and lots more recipes on the Lets get cooking website. http://www.childrensfoodtrust.org.uk/lets-get-cooking-at-home/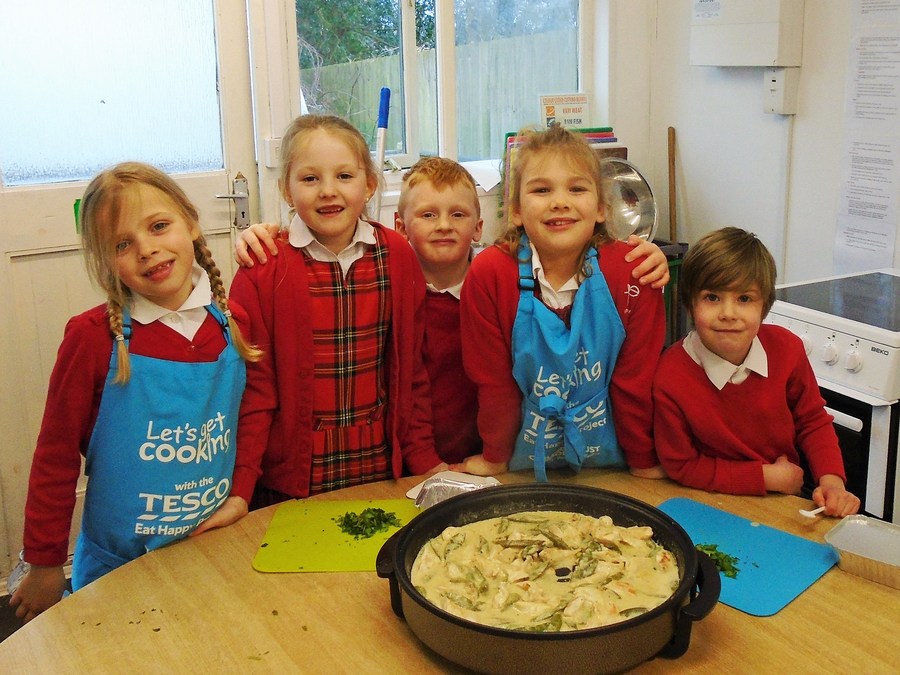 July 2015
French Club
The photographs below are of French flags made by pupils in French club. They were eaten afterwards! They learned french colours and the phrase "Bonnes Vacances!" which means happy holidays.