Football Page
CLICK HERE FOR THE LATEST 2017/18 LEAGUE TEAMS & FIXTURES INFORMATION AND RESULTS
5th December 2017
On Tuesday 5th December the year 4 football team played a friendly (exhibition) match against Trannack School. Mr Tregenza led a warm-up so that the players go to know each other and then refereed the game. The Parc Eglos team started very confidently, with Blake and Ollie scoring two early goals before Trannack had tested Corin at the other end. Parc Eglos continued to put pressure on their opponents, who battled hard to defend. More goals looked likely though and Harvey broke free from his marker to add to Parc Eglos' tally.
This seemed to spur Trannack on and their response was an excellent goal from long distance. With the score at 3-1, both teams sensed more goals and there were attacks at both ends. Jack made a very determined run down the right, beating his challengers, and his cross bounced back off the far post for Harvey to tap in for his second. Jacob, Keenan and Finlay pushed forward, but there were to be no more goals for Parc Eglos. However, Trannack scored another excellent long range effort. The final score was 4 - 2. Well done to all the players and thank you to Trannack for hosting a great afternoon of soccer.
24th November 2017
Diamond Shield
The next Friday saw a slightly changed team travel to Porthleven for a Diamond Shield tie. Our faithful subs played a full game (Bradley in goal, Ryan in defence and Jago up front) and in came Cory as well. In the first half Porthleven battled back to 2-1, but Parc Eglos commanded the second period with Charlie scoring four goals overall and Cory netting on his debut! The final score was 9 - 1.
Well done to everyone who took part and thank you to all of our supporters and Mrs Curnow for driving the team to Par.
17th November 2017
ESFA Cornwall Finals
As reported earlier in the month, our year 5 and 6 Stripes won the area title and a place in the county finals. On a bright and sunny Friday the 17th of November they headed to Par, hoping to win the right to represent Cornwall at the ESFA south west championships next year. That dream looked a real possibility in the group stages as Parc Eglos raced into an early three goal lead against Mount Hawke, eventually winning the match 4-2. They performed even better against the hosts, Biscovey (5-1) and, though they were tiring, held Alverton to a 0-0 draw to secure top spot in the group. The goals from Charlie, Kian and Jordan had been excellent, but Harrison and Sam's defending, Rory's great runs down the wing and Joe's goalkeeping were just as crucial to the team's success.
In the semi-final Kian got the Stripes off to a superb start, but just before half-time the big striker from St Breock snatched an equaliser. Another well-taken header from the same boy just after half-time was a real set-back. St Breock's third goal was an unstoppable strike. To their credit, with five minutes still on the clock, our Stripes surged forward looking for the two goals they needed to take the tie to extra-time. Kian found one of them, but not the second and down with the setting sun went Parc Eglos dreams of a trip to Bristol in the spring!! Our neighbours in the west, Penpol School from Hayle, were the eventual victors.
14th November 2017
The year 4 football team travelled to Connor Downs for a friendly fixture. The whole team played very well, with Keenan leading the attack and scoring two excellent first-half goals along with one for Billy. The highlights of the second half were two long-range efforts from Jacob and Harvey, which are definite contenders for goal of the season! As the game neared its close, two more goals were poached by Jack and Chester. The final score was 7 - 0.
10th November 2017
Rosewarne Shield - on Friday the year 5 and 6 Stripes played our neighbours, Nansloe, in the first round of the Rosewarne Shield. This was also their first home fixture of the season, making good use of our brand new goals. Charlie opened the scoring, quickly followed by a second from Kian.
Nansloe then pulled one back, before Harrison scored an excellent looping goal from the half-way line! Nansloe were still in the game, although for most of the second half they defended their goal valiantly against a Parc Eglos wave of attacks. The score seemed as though it would remain 3-1 until a brace from Rory and a late, sixth goal from Charlie put the game beyond doubt.
3rd November 2017
Fantastic result for the stripes today winning the cup! Mr Powley has done a great job with the boys. Well done Parc Eglos!
On Friday the 3rd of November Parc Eglos Stripes took part in the annual English Schools' Football Association tournament at Mount's Bay Academy, Penzance. Thirteen primary schools competed for the title of West Cornwall champions and the best three teams would earn a place in the county finals.
Parc Eglos started the competition strongly with victories against Marazion and Pensans, but were held to a tight, goalless draw by an organised St Ives team. Going into their match against group leaders, Penpol, Parc Eglos knew a win, draw or a defeat by a small margin would all be enough to gain them entry to the semi-finals. Penpol showed their quality and edged to a 1-0 victory, although Jago's long-distance volley which hit the bar looked, for a second, like it might earn the team a draw.
Disappointed in defeat, but pleased to be in the knock-out stages, Parc Eglos worked hard to close down a hard-working team from Alverton School. Goals from Charlie and Kian meant that a place in the final and a re-match against earlier opponents, Penpol, awaited them! This time Parc Eglos knew they had to be quicker to the ball and that when their opportunities arose in front of goal they had to take them. Once again Penpol took an early lead, but the Parc Eglos heads didn't drop. Instead, they kept trying to pass their way back into the game and, when they could, use Harrison's excellent long throw to gain an attacking advantage. It was one of those throws that led to Charlie's well-taken equaliser. At 1-1, extra-time couldn't separate the teams and so the final was to be decided by penalties!
Jordan, Harrison, Sam and Kian stepped up and converted their spot kicks. However, it was two superb saves from Joe that everyone was talking about on the bus home. It was a hard way to lose the final for Penpol, who played some excellent football themselves and made the final (and the earlier match) a great advert for primary football. Parc Eglos and Penpol will be joined by third-placed team, Alverton, in the ESFA Cornwall finals at Biscovey School on Friday 17th November.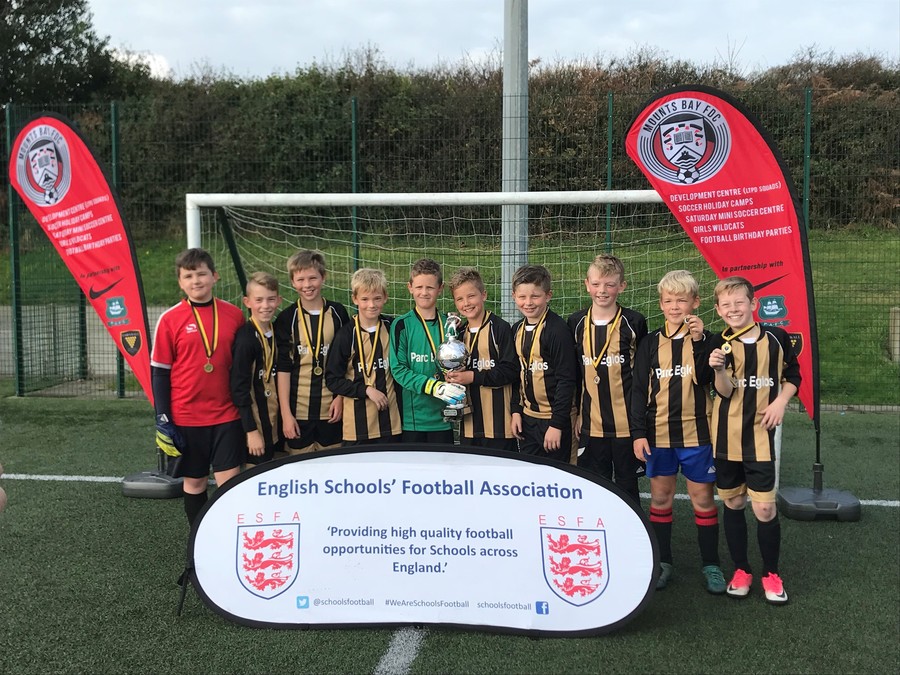 13th October 2017
CONGRATULATIONS!
Well done to eight of our children who have been selected to take part in this year's skills programme at Penryn Football Development Centre. They are:
George Harrison
Keenan Casalegno
Ryan Glover
Harrison Glover
Kian Layzell-Williams
Rory Duncan
Sam Pallett
Jordan Williams
26th September 2017
For the second week running the boys and girls enjoyed an evening of football in bright autumn sunshine. Parc Eglos Stripes maintained their position at the top of the league with two healthy wins. There were some well-worked goals among the nine they scored and as a unit they looked strong. There was an exciting and rare nil-nil draw between St Michael's Blues and Porthleven, with only the post and some fine saves preventing either team from clinching a narrow victory. St Michael's Blues also drew with the Reds of Parc Eglos in another tight fixture with chances at both end of the pitch. Finally, Porthleven moved up a gear and hit five goals past PE Reds. In a scintillating and commanding opening five minutes they stormed into a three goal lead and never really looked back.
Thank you to all parents and staff who helped to make last night happen.
All the best,
Christopher
15th March 2017 - Schools' Sports Partnership's football tournament
The Reds and the Stripes took part in the annual SSP football tournament. This year it was held at Helston Football Club.
The Reds were playing as a team with some new faces in, but they soon gelled well to frustrate the opposition for long periods. Reds and Stripes faced each other in the first game and although the Stripes were victorious in the end it took them a while to score. It required a special hat-trick from Matthew Jenkin to secure that victory.
The Reds were not prolific scorers, but both Taylor and Will got their names on the score-sheet and the team recorded one win and one draw.
The Stripes finished third overall this year and goalkeeper Jamie Belcher and his defence can be particularly proud of the six clean sheets they achieved. Not only that but the Stripes scored more goals than any of the nine teams present. Only a last gasp, winning goal from Porthleven prevented the Stripes from reaching the end of the tournament unbeaten.
Congratulations to Porthleven for progressing to the Cornwall Games and to St Michael's for being runners-up.


27th February 2017
Hi All,
I wanted to thank everyone who took part in the football league play-off on Monday. It was a cold, occasionally wet night, but there was lots of exciting football on show to keep the players and the fans warm.
Landewednack took an early lead against Parc Eglos in their semi-final. However, Parc Eglos were victorious, equalising half-way through the game and scoring the winner late on. Nansloe put in a brave performance against St Michael's, but this Helston derby only looked like having one winner as soon as St Michael's went 2-0 up. The final score was 3 - 0. The third place decider proved to be the game with all the goals in it. Nansloe stormed into a two goal lead and could have had a third. This seemed to galvanize Landewednack's players who fought back to 2 - 2, before racing ahead to a 5 - 2 victory. All eyes were then on the final. For fifteen minutes the two teams were evenly matched. It took a sensational lob from one of St Michael's defenders to finally break down the Parc Eglos defence. As Parc Eglos pushed for the equalizer they were hit on the counter attack and St Michael's finished the game as 2-0 winners and the season as champions - their first title since 2012.
Thanks again to Martyn Tregenza for refereeing the games and to Helston College staff for providing us with the pitch this season. Now our attention turns to the smaller schools whose own league will begin in a few weeks' time.
All the best,
Christopher


October 2016 - Year 4 friendly football match against St Michael's School
Just prior to half-term a squad of year four footballers walked up to St Michael's School to take part in a friendly match.
Ryan started in goal with Jacob and Lewis in defence. The midfield comprised Xander (left-wing), Jago (centre) and Harry (right-wing). Will and Jayden (the captain) were up front with Jamie and Ben waiting on the bench for their chance to come on.
Parc Eglos stormed into a commanding lead with goals from Will and Jayden. The two wingers were particularly fast and causing the St Michael's defence all sorts of problems. At the same time our defence of Jacob and Lewis was a strong wall against anything the opposition's attack threw at us. By half-time it was 4-1.
In the second half Parc Eglos became a little bit more adventurous, bringing goalkeeper Ryan onto the pitch. St Michael's started to get a grip on the game and pulled a few goals back. However, the final score was 7-5 to Parc Eglos who always seemed to have just about enough skill and stamina to avoid a draw or a defeat.
Well done to all the boys. Goal scorers: Will 3 (a superb hat-trick); Ryan 1; Jago 1; Harry 1 and Jayden 1.
18th October 2016
Below are the results from last night's football. Parc Eglos Stripes picked up three wins, but there was some excellent football
on display from all of the teams. Although Porthleven Whites lost both of their matches, they played a good passing game at
times and never gave up. Mullion played with real energy and in their game against Parc Eglos Reds (which ended goalless)
either team could have come out on top. Well done to all of the players and thank you to the parents and teachers who
watched and provided transport. It was a bright, sunny evening; after half-term we will be needing the floodlights again!
All the best,
Christopher Powley
17th October 2016
Mullion v Porthleven Whites 2 - 0
Parc Eglos Stripes v Porthleven Whites 7 -1
Mullion v Parc Eglos Stripes 0 - 2
Mullion v Parc Eglos Reds 0 - 0
Parc Eglos Reds v Parc Eglos Stripes 0 - 4
October 2016
Thanks to everyone who has taken part in the first round of fixtures.
We're looking forward to seeing Mullion, Porthleven and Parc Eglos on Monday 17th October.
All the best,
Christopher Powley
April 2016 - Parc Eglos - The winning team!
27th April 2016
On Wednesday 27th of April Parc Eglos Stripes took part in this year's Cornwall Games where the best nine football teams in West Cornwall played each other for the title of tournament winners. The venue was Penryn College and after eight matches played in rain, sunshine, hail and wind, the Stripes had won four games, drawn three and lost once (against Connor Downs). Last year's winners (Archbishop Benson) equalled the Stripe's points record, but crucially Parc Eglos had scored one more goal. Looking back it was clear to see how important the 2-0 win over Archbishop Benson was!
| | | | | | | | | |
| --- | --- | --- | --- | --- | --- | --- | --- | --- |
| | Pld | W | D | L | F | A | GD | Pts |
| Parc Eglos | 2 | 1 | 0 | 1 | 6 | 3 | 3 | 3 |
| Porthleven | 2 | 1 | 0 | 1 | 2 | 2 | 0 | 3 |
| St Michael's | 2 | 1 | 0 | 1 | 2 | 5 | -3 | 3 |
Thank you to everyone who made the larger schools' league possible this year. The play-offs happened in two stages due to the unfortunate injury Portheven's brave goalkeeper Dan sustained. Thankfully he is making a recovery and we all wish him a speedy recovery. It was good to see him at the re-arranged play-off fixture between Parc Eglos and Porthleven which he will have enjoyed: Porthleven won 2-1 and he presented the trophy to the overall winners, Parc Eglos.
This year it was only goal-difference which separated all the teams and the quality of the football was excellent. Interestingly, all the results were reversals of the outcome in the league!
Porthleven 0 v 1 St Michael's
St Michael's 1 v 5 Parc Eglos
Parc Eglos 1 v 2 Porthleven
There is a new trophy this year and in recognition of being the winners three times in the last decade, Porthleven will keep the old one.
All the best,
Christopher
February 2016
Year 4 Tournament at Trannack 29th of Feb 2016
What a thrilling afternoon of football! Parc Eglos fielded a team of year 4 boys who participated in the annual year 3 and 4 tournament. The eight players got off to a steady start, piling pressure on the Germoe-Boskenwyn goal mouth without being able to convert any of their chances. In the second match Parc Eglos found that it was their turn to absorb the pressure, but an excellent break-away goal by Morgan from Sam's direct goal kick gave them the edge when the final whistle blew. It was much the same pattern in the third match against a strong St Michael's team. On this occasion Parc Eglos saved their best chances until the end, Kian scoring an excellent goal from close range. The penultimate match was a less nervy affair and goals from Kian, Charlie, two from Morgan and an own goal meant that Parc Eglos were sitting on top of the group. All they needed to do in the final game against Godolphin was win to earn themselves the easier (on paper!) semi-final. Unfortunately, a dogged and determined Godolphin team did to our boys what we had done to St Michael's and Nansloe: with their one shot on target they scored and won the game 1-0.
Instead of finishing top the boys were in third place which earned them a play-off against Nansloe. This semi-final was a real battle and the boys dug in, defending well, trying their best to carve out a chance. Still goalless at full-time, three minutes of extra-time were played and in the last five seconds, moments after a wonder save from Sam, Nansloe netted the winner. They played Godolphin in the final and St Michael's met Parc Eglos in a third place decider. Having lost two in a row and with a small squad of only eight, Kian's wonderful equaliser in that game wasn't enough to give the reds the impetus to go on and win. The victory in this 8-a-side game (2-1) was St Michael's (also in the last few seconds). Although Godolphin had finished fourth in the league standings, they won the final and penalties and were crowned the tournament's victors!
score

GK

D

D

LM

CM

RM

F

Sub/F

Germoe-Boskenwyn

0-0

Sam

Curtis

Carl

Jordan

Kian

Charlie

Morgan

Liam

Nansloe

1 - 0

Sam

Curtis

Carl

Liam

Kian

Charlie

Morgan

Jordan

St Michael's

1 - 0

Sam

Curtis

Carl

Liam

Kian

Charlie

Morgan

Jordan

Trannack

5 - 0

Jordan

Curtis

Sam

Liam

Kian

Charlie

Morgan

Carl

Godolphin

0-1

Jordan

Carl

Liam

Sam

Kian

Charlie

Morgan

Curtis

SF Nansloe

0-1

Sam

Curtis

Carl

Liam

Kian

Charlie

Morgan

Jordan

3rd PO

St Michae's

1-2

Sam

Curtis

Carl

Liam

Kian

Charlie

Morgan

Jordan
30th November 2015
Both Parc Eglos teams participated in the Helston Cluster tournament on Monday the 30th November 2015. The Stripes were the deserved winners for the third year running, qualifying for the 2016 Cornwall Games in Penryn next year as a result of their triumph. The Reds played some excellent football too, winning three games and gaining ten points to finish fifth. This is very good for a team exclusively from year five.
Highlights for the Stripes included twelve goals for Scott Rodden and eleven for Ayden Earnshaw; with Charlie side-lined through injury at the moment it's good to know that we can still get among the goals! Jack kept an impressive six clean sheets and Joe kept his cool to score the winner and only goal in the crucial deciding game against St Michael's.
The Reds got off to a flying start, scoring five in their first match. They also managed a 0-0 draw against Porthleven who were the second highest scorers on the day. Matthew Jenkins' hat-trick against Trannack and Zac Bardell's mazy runs really stood out. Harvey Benney in goal made more than his fair share of excellent saves.
Well done to all the players who took part on a fun, blustery afternoon at Trannack. Thanks also to Mr Tregenza and Mrs Ayotte for the hot chocolate!!
Click here to see detailed results.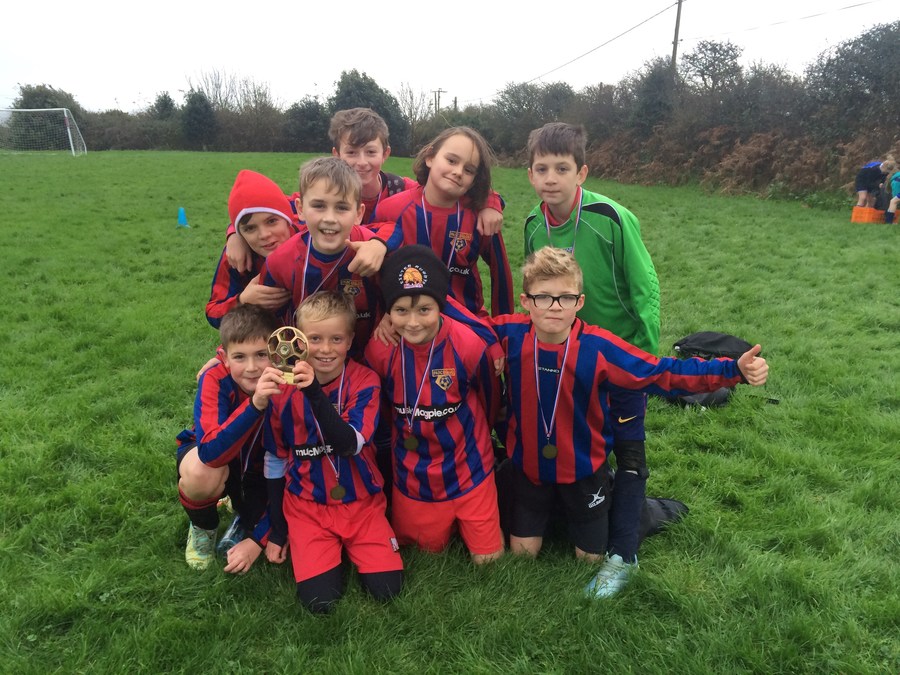 20th November 2015
Thanks to everyone who took part in the football league this year. Parc Eglos Stripes finish top on goal difference, but that will count for nothing when they are joined by St Michael's Blues and Porthleven for the play off to decide this year's champions. The date for those games will be confirmed soon.
Matt Burley has kindly summarised the final five games. Finally, thanks to George Knight for being our referee this season.
1) Parc Eglos Reds 1 Porthleven 0
A suprise result, but a deserved one, real bodies on the line and an outstanding performance from the Parc Eglos goalkeeper.
2) St Michael's Blues 1 Mullion 0
Wave after wave of Blues attacks, who were playing in an unfamiliar orange, but no end product. Finally the Blues got the goal and had to withstand a couple of attacks from Mullion who nearly snatched a draw towards the end.
3) Mullion 0 Porthleven 6
Another dominant performance, but this time with superb finishing against a tiring Mullion side.
4) Porthleven 2 St Michael's Blues 1
In their final game the Blues lost their 100% record and deservedly so. A rejuvenated Porthleven side took the game to St Michael's Blues and got two quick goals. St Michael's started to get back into the game against a free flowing Porthleven side and scored one back, then for the final 5 minutes the Blues were pinning Porthleven back in their own half but couldn't find the equaliser.
5) Mullion 0 Whites 2
Showing a lot of promise the Whites went for it and got a goal in the first few minutes. Attack after attack was thwarted, but after having done so on several occasions the Mullion goalkeeper stepped out of his area one too many times and conceded a penalty, which was dispatched with vigour (good refereeing by George to give them the benefit of the doubt).
3rd November 2015
Hi All,
Thank you to everyone who took part in last night's fixtures at Helston Community College. Once again there was some excellent football on display.
Some of the goals scored were truly spectacular: PE Stripes scored two fabulous long-range efforts against Porthleven in their 4 – 2 victory, while Nansloe's winner against Mullion was another magnificent goal hit from distance and ending up in the top corner of the net. Although the game between Mullion and PE Reds ended in a 0-0 draw it was not without excitement and incident and both 'keepers made excellent saves.
Please note that I've made a couple of changes to the final two days of fixtures.
Firstly, I spotted that I'd made an error and had duplicated a fixture (Nansloe v St Michael's Whites) so I've removed that from the 9th of November.
Secondly, I've moved Porthleven v Parc Eglos Reds from the 9th of November to the 16th of November. This means that Porthleven have three fixtures on the 16th, but don't have to come into town for a single game on the 9th any more. I hope this is all right.
All the best,
Christopher Powley
October 2015
On Tuesday the 13th of October Parc Eglos Stripes and our Reds continued their adventure in the Helston and Lizard Larger Schools' Football League. The Reds played their third game of the tournament and took the lead against a determined Nansloe Academy team. Kian struck a firm shot from outside the area which took a deflection and looped over the Nansloe keeper. Unfortunately, the side in black and white stripes piled on the pressure and earned themselves a 2 – 1 victory with a couple of late goals.
The Stripes, having lost their last league game to St Michael's Blues, started very strongly against Landewednack, storming into a four goal lead. Although the greens and blacks found the net twice, the pace of our players and their excellent passing was superb and six more goals followed. In a 9-2 victory Charlie scored four, Scott three and Thomas 2. Harry had a great game in goal and after a cup defeat to St Hilary two weeks' ago the side seemed balanced, with Charlie up front and Scott running the midfield. Ayden's new position in defence suited him too. Victories against Mullion (4-0) and Nansloe (5-1) followed. Mr May (from Nansloe) commented on the brilliance of Joe's hat-trick, in particular his final goal which topped off another superb display. Stacy made her debut in goal and made two great saves. Well done to both of our squads.
September 2015
Helston Cluster Celebrate!
All told the schools taking part in today's tournament raised £500 for the children's cancer charity.
Parc Eglos Stripes won seven of their eight games and drew the other, against Devoran.
They conceded only two goals and scored 19. Charlie Davies was the top scorer with eight goals. The Blue and Black team managed to pick up some points too and Matthew Jenkin scored a superb individual goal, running from one end of the pitch to the other.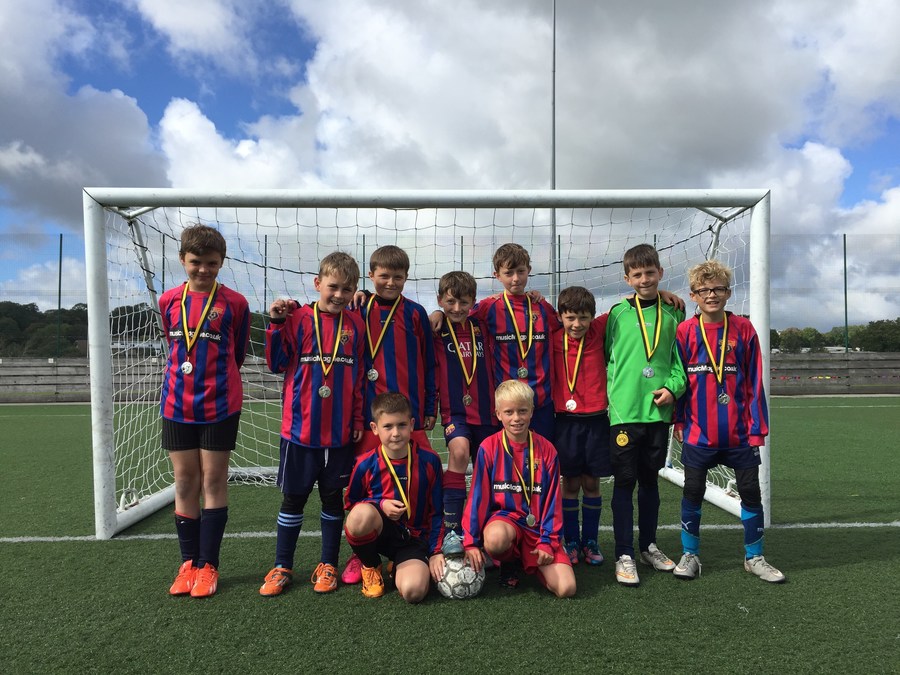 July 2015
Mr Powley's presents 'The Treble Winning Team'!